Treasure of Galapagos Yacht Tour-First Class STX-GPSTOG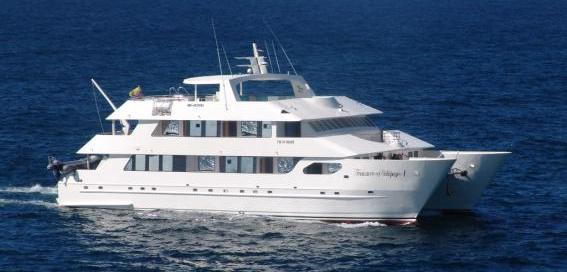 On board of the Treasure of Galapagos we strive to provide the best
travel experience to our passengers. We are proud to maintin high
standards os service so our passengers can enjoy the islands
in an unforgettable way.
Contact us to have the best offer for this First Class Cruise!
E-Mail: This email address is being protected from spambots. You need JavaScript enabled to view it.
ITINERARY 5DAYS/4NIGHT OPTION "A"
| Day | Description |
| --- | --- |
| Friday | AM: Transfer Baltra– Seymour Port PM: Santa Cruz Island: Charles Darwin |
| Saturday | AM: Santiago Island: Sullivan Bay PM: Bartolome Island |
| Sunday | AM: North Seymour Island PM: Mosquera Islet |
| Monday | AM: South Plazas Island PM: San Cristobal Island: Cerro Brujo |
| Tuesday | AM: San Cristobal Island: Interpretation Center PM: Transfer out – San Cristobal Airport |
 ITINERARY 5DAYS/4NIGHTS OPTION"B"
Day
Description
Tuesday
AM: Transfer in – San Cristobal airport
PM: Cerro Colorado
Wednesday
AM: Española: Gardner Bay
PM: Española: Punta Suarez
Thursday
AM: Floreana: Post office Bay
PM: Floreana: P. Cormorant
Friday
AM: Santa Fe
PM: Tortuga Bay
Saturday
AM: Santa Cruz Island: Chato
PM: Transfer out – Baltra airport
 ITINERARY 7DAYS/6NIGHTS OPTION "C"
Day
Description
Saturday
AM: Transfer in – Santa Cruz
PM: Santa Cruz – Charles Darwin Station
Sunday
AM: Santa Cruz Island: Ballena Bay
PM: Santa Cruz Island: Dragon Hill
Monday
AM: Isabela Island: Tintoreras
PM: Isabela Island: Humedales
Tuesday
AM: Isabela Island: Punta Moreno
PM: Isabela Island: Bahia Urbina
Wednesday
AM: Fernandina: Punta Espinoza
PM: Isabela Island: Caleta Tagus
Thursday
AM: Santiago Island: Puerto Egas
PM: Rabida Island
Friday
AM: Santa Cruz: Bachas – Transfers out Baltra