During yesterday's (6th of December 2013) final draw for the FIFA World Cup 2014 in Brazil Ecuador and Switzerland were drawn into the same group together with France and Honduras. Ecuador's first game will be against Switzerland on June 15th. Ecuador has never played against Switzerland.
To all our Swiss and French students: Come and check out the country of Ecuador and get friends before the world cup even starts!
Sintaxis wishes all teams good luck and success!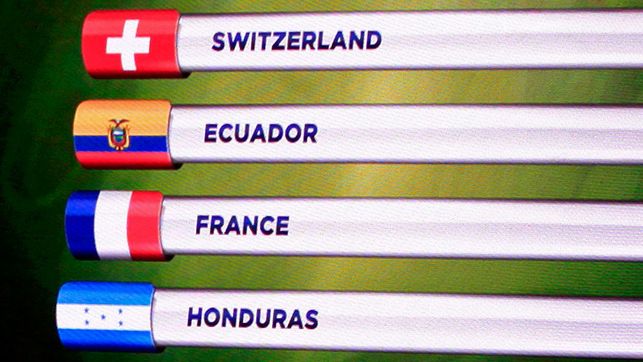 With our special Spanish course on the Galapagos Island Santa Cruz you can visit Galapagos and at the same time learn a lot more Spanish. In the mornings you study and it the afternoon you enjoy the unique beauty of Galapagos and its wildlife. Try it! You'll love it.
Read more...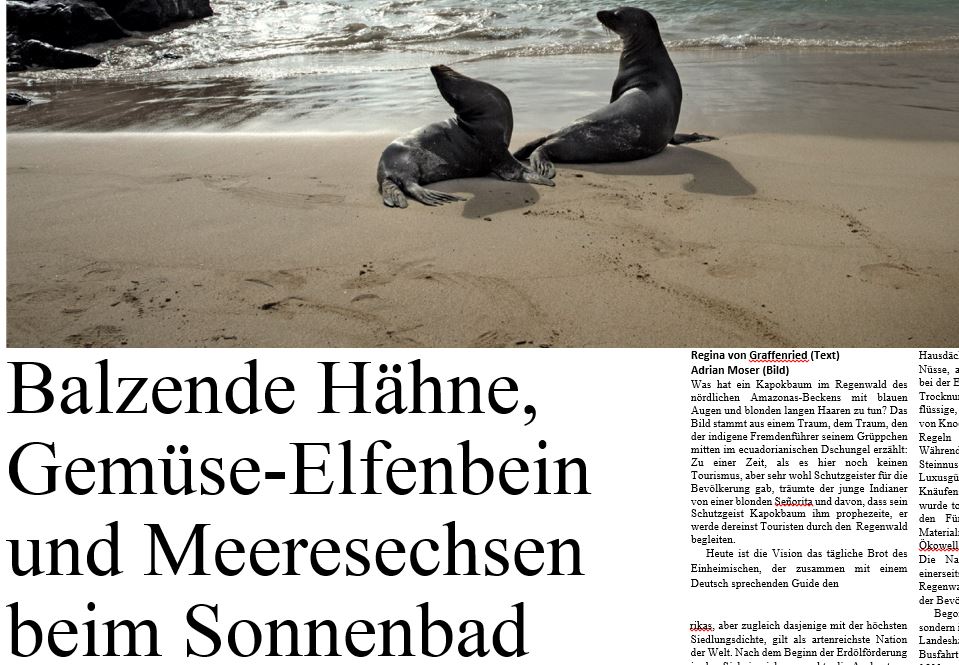 Ecuador, die artenreichste Nation der Welt, verzaubert mit atemberaubenden Landschaften und der einzigartigen Inselgruppe Galapagos.
Ein spannender Bericht der im Rahmen einer "Bund"-Leserreise entstand.
klicke hier um den Bericht zu öffnen.
Quelle: "Bund" und "Tages-Anzeiger"
Sintaxis bietet zahlreiche Touren in Ecuador sowie auf die Galapagos-Inseln an. Bei Fragen zögere nicht und kontaktiere uns!

My stay in Ecuador at Sintaxis
Friends had told me about Sintaxis. Because they had been so happy with Sintaxis I decided to inform me about this organisation and after that it was clear to me that I would plan my stay in Ecuador with Sintaxis.
First I was a bit nervous because I would live at a host family in a country I couldn't speak a word in the people's tongue. After a very short time I felt very comfortable in my host family. They tried everything to make my stay nice and interesting. They took me with them all the time and like this I could get an amazing insight into the daily life of my host family. Living at a host family was the best thing that could happen to me to get to know life in Ecuador and also to use and practice my Spanish that I learned every day at Sintaxis Spanisch School.
At the beginning I wasn't sure that the one to one teaching would be good for me. But I learned very fast that this teaching method helpede me to improve my Spanish very fast and with big success. Studying was so much fun and I had a great teacher.
Sintaxis also organized excursions for me: I climbed a volcano, I visited a typical market and I spent some days in the jungle. These excursions were always organized very well and are some unforgettable experiences and memories for me. Unfortunately I didn't have time to go on more excursions.
All in all i was very happy with the offers of Sintaxis and the really very friendly and helpful people of this organisation, on the one hand in Ecuador but on the other hand also in Switzerland. Like this I could experience an unforgettable stay attending a Spanish School that is more than just a school. I am sure that I will come back to get to know the country better and to visit my host family and my Ecuadorian friends.
Thanks again and lovely greetings,
| | | |
| --- | --- | --- |
| | Ingrid | |
| | | |
| | | |
| --- | --- | --- |
| | Read some background information about Ecuador and Sintaxis and get a better idea of what is waiting for you at Sintaxis and on our tours in and around Ecuador. | |
Read more...
<< Start
< Prev
1
2
3
Next >
End >>
Results 1 - 9 of 19